Paper
3/8/2020
In two days I bought three things to help me manage paper in my home office. The combination of purchases was ironic:
A heavy-duty stapler.
A heavy-duty hole punch.
A flat bed scanner with document feeder.
Can you tell I harbor a certain ambivalence where paper is concerned?
The Stapler
I was driven to purchasing the stapler while remitting a $24.00 tax payment to the City of Cincinnati for TY2019. The City of Cincinnati required a 22 page tax return to be filed along with my $24.00 check and my standard-issue Swingline just wasn't up to the challenge. In a fit of pique I tried bashing several staples through in rapid succession. That worked as well as you might expect. My business partner convinced me there was a better way. $20.00, Amazon prime.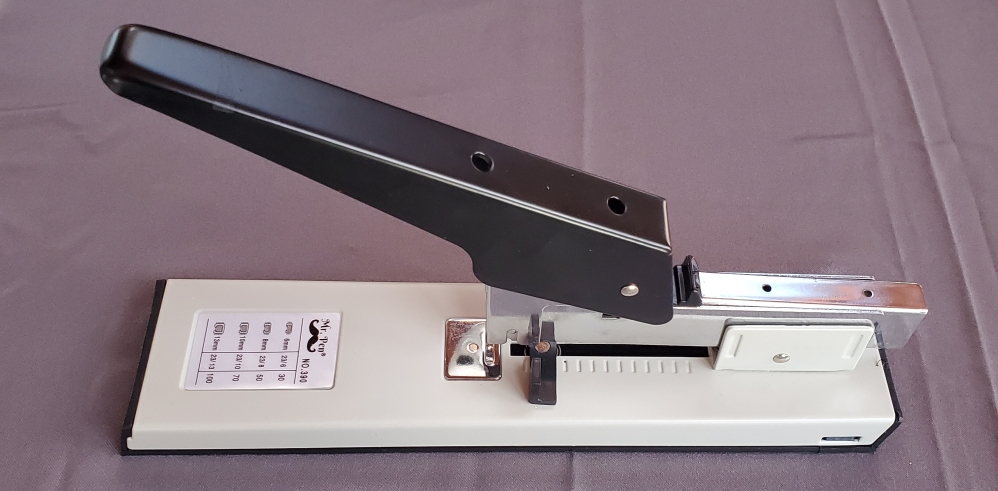 The Hole Punch
Having tamed staples, my mind wandered to hole punching. Audrey's collection of Cook's Illustrated magazine is a well-thumbed reference, but even with an index (which we don't have) it is difficult to find things because the issues get shuffled constantly. We're going to try corralling them in 3-ring binders.
I also prefer to store user manuals in 3-ring binders, but many are too large to punch using my standard-issue hole punches. The beauty below can punch through 100 pages. $132.00, Amazon Prime.
I hate spending so much money on managing paper in paper form (as opposed to converting it to digital) but at the moment some documents seem to be most useful in paper form. That's not to say that I'm not intrigued by the idea of PDF-ing everything, storing it on Google Docs, and accessing it via a tablet.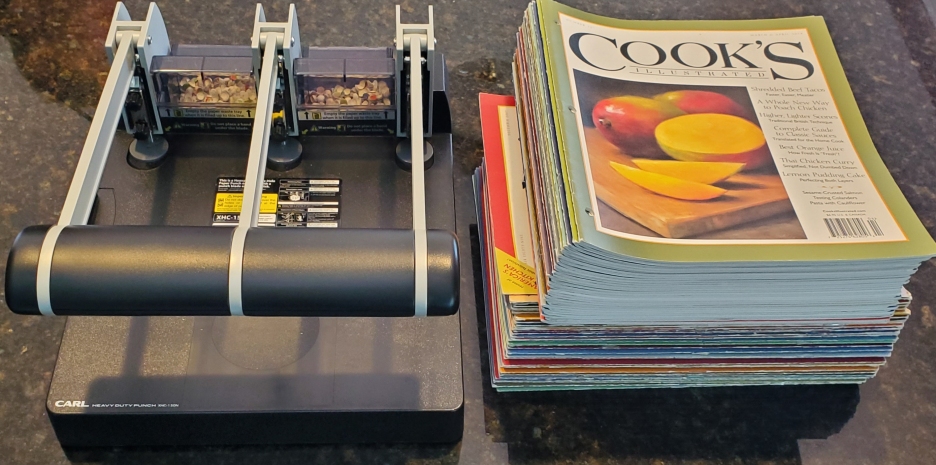 The Scanner with Document Feeder
"A paperless office is about as practical as a paperless bathroom."
— Unknown
That might be so, but a paperless filing system is bliss. Until now, however, my PDF-based document retention system was limited to those documents that I could tolerate scanning on my old flat bed scanner. It was great for receipts and short notices that arrive via USPS, but anything longer than a few pages was just too much of a nuisance. I'd evaluate every page of a long document to determine if I really needed the information on a given page badly enough to scan it.
No longer. The HP ScanJet Pro 2500 FT is absolutely amazing. Single-sided documents, double-sided documents, documents smaller than US Letter, documents of different paper weights... just register the top edge of a stack of paper, remove staples, stick it into the feeder, and away you go. $263.00, Amazon Prime.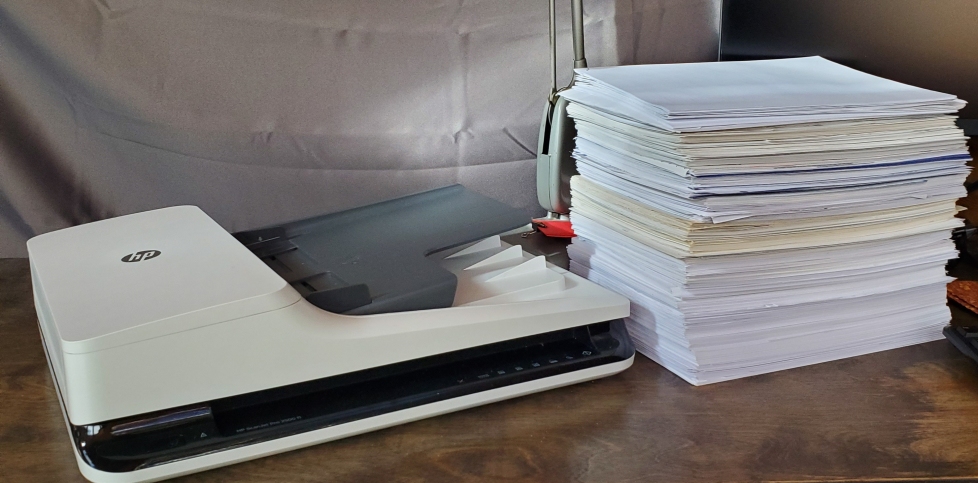 Regarding my vision of a Google Docs PDF repository, it would be a simple thing to cut the saddle-stitched binding of those Cook's, double-sided scan them to PDF, and access them via table or mobile. I just don't know if Audrey would prefer the usability of that solution to paper.
Conclusion
In a few years, you might read a blog where I gush about a heavy-duty staple remover I'm using to unstaple paper in my 3-ring binders so I can scan them to PDF. Stay tuned.